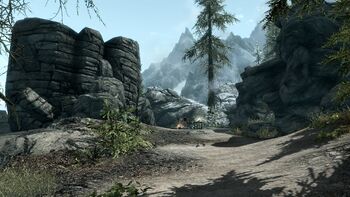 Ansilvund is one of the many dungeons in Skyrim. It is located north of Riften and the approach is guarded by a high-level mage. Repeated visits to the site will reveal a succession of these mages.
NPCs
[
]
Places
[
]
Ansilvund Excavation
[
]
The Excavation is the first set of chambers inside the mine area. Many magic prone opponents and draugrs infest the cavern.
Puzzle: To enter the Burial Chamber, read Lu-ah's Journal pointing at Of Fjori and Holgeir. Reading the latter reveals the switch order is Eagle, Snake, Whale, Snake.
Ansilvund Burial Chambers
[
]
The burial chambers are the innermost chambers of the site and also where Lu'ah Al-Skaven is finally encountered face-to-face.
Tip: Navigating some of the traps with a follower can be accomplished by using command mode, and pointing the follower to where to wait.
Quests
[
]
Items of Note
[
]
Excavation:
Burial Chamber: