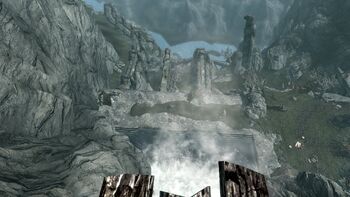 Bard's Leap Summit is located at the top of the Lost Valley Redoubt. It is essentially a wooden platform overhanging a small pool in the redoubt.
If the Dragonborn leaps off the platform and survives the fall into the pool below, a ghost bard named Azzadal appears and mimes a song which increases Speechcraft by 2 points (if it is not already at 100).
The architecture of the Bard's Leap, other than the wooden platform, is the same as that found around Nordic barrows, including certain places occupied by the Forsworn in the Reach.