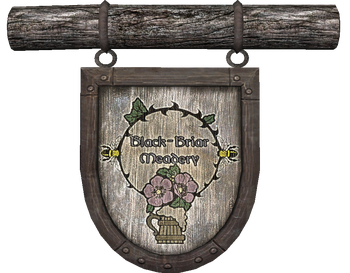 The Black-Briar Meadery in Riften is one of the largest and most successful businesses of its kind in Skyrim. It is owned by Maven Black-Briar who jealously guards her interests.
The meadery's employees are meticulously informed about happenings by a host of notes: All Employees Must Read!, To Be Read Immediately!, and Attention Employees!.
NPCs
[
]
Items of Note
[
]
Books ×4.
Ebony Sword under counter.
The cellar with the large vats intrigues with a locked chest requiring a key.