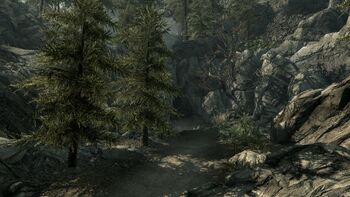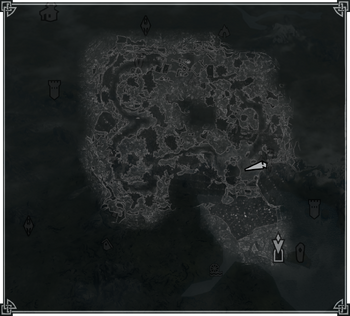 Bloated Man's Grotto is a small cave which leads to a glade inhabited by spriggans and cave bears. It is situated in the hills west of Brittleshin Pass, south of Sleeping Tree Camp and north of Lake Ilinalta.
Inside is a shrine to Talos at the foot of which is Bolar's Oathblade accompanied by a pedestal containing Bolar's Writ.
Quests
[
]
Items of Note
[
]
Dive into the small pond, at the base of the waterfall near the entrance, to discover a chest containing items with a value of ~950 (L30).
Near the base of the upper waterfall, to the very north of the cave entrance, an intrepid climber can find a Gold Ore Vein.
On the altar of the Talos Shrine a Greater Soul Gem can be found (at L30).
Notes
[
]
During the quest Ill Met by Moonlight, the grotto changes quite a bit: a red moon in the sky casts reddish light on the previously very green scene, a hunter camp is set up, the direct south-western path is blocked by fallen trees, and of course all the hunters who now roam the grotto.