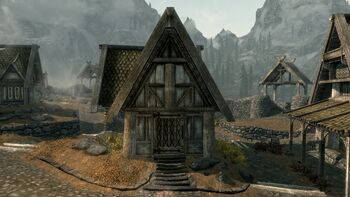 Breezehome is a purchasable home inside the city of Whiterun. It can be purchased from the Jarl of Whiterun's Steward, Proventus Avenicci (or Brill, if the player sides with the Stormcloaks and completes the quest Battle for Whiterun), for 5,000

once they have earned the title Thane of Whiterun. Upgrades can also be purchased for this home, as described in the Whiterun Home Decorating Guide. The home also comes with the services of Lydia as housecarl.
Breezehome is located in the Plains District of Whiterun. It is located just next to Warmaiden's blacksmith shop. It is the cheapest house available for purchase in all of Skyrim, however it is also the only one that does not include an Arcane Enchanter.
Costs
[
]
Price to purchase home: 5,000
Total cost of all upgrades: 1,800
Total cost of the house with all upgrades: 6,800
Upgrade
Cost
Furnishings
Alchemy Labratory
500
1 Alchemy Lab
1 Apothecary's Satchel
1

Bookshelf


1

Chest


1 Table
Bedroom
300
2 Chairs
1

Dresser


3

End Tables


1

Shield Plaque


1 Table
Kitchen
300
2 Chairs
1

Cooking Pit


4 Shelves
1 Table
3

Dried Elves Ears


3

Garlic Braids


2 Salmon
Dining Room
250
1 Barrel
1 Chair
1 Cupboard
2 Shelves
Living Room
250
2 Bookshelves
2 Chairs
1 Cupboard
4 Shelves
2 Tables
1

Weapon Plaque


1

Weapon Rack

Loft
200
2 Chairs
1 Cupboard
1 Table
1 Weapon Plaque
Whiterun Hold
Settlements

The Plains District

The Wind District

The Cloud District

Farms
Camps

Army camps

Bandit camps

Giant camps

Forts, Keeps, and Towers
Nordic Ruins
Caves
Standing Stones
Unmarked Locations

Rorikstead Resurrection

 ·

Puzzling Pillar Ruins

 ·

Fetid Pond

 · White River ·

Swallowed Skeleton

 ·

Great Henge Resurrection

 ·

Necromancer's Bluff

 ·

The Skeleton's Strongbox

 ·

Smuggler's Den

 ·

Whiterun Attack Camp

 ·

Ruined Troll and Wispmother's Well

 ·

Dead Whiterun Guard

Other