Bthardamz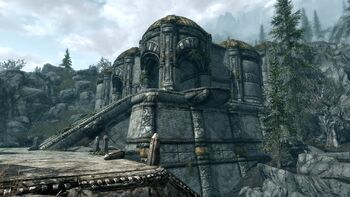 Bthardamz is a large Dwemer ruin located some distance north of Markarth and west of Karthwasten. The Shrine to Peryite is relatively nearby to the south-east.
The inside of the complex is run over by many Afflicted (×32), Dwarven Spiders (×14), Dwarven Spheres (×7), a Dwarven Centurion and Orchendor, a powerful hostile mage.
The Bthardamz Arcanex door will only open after having completely explored the complex.
Outside:
Bthardamz Upper District (cont.)
[
edit
|
edit source
]
Slightly off the main path up the stairs to the right, there is this small dwelling.
Bthardamz Lower District (cont.)
[
edit
|
edit source
]