(6 intermediate revisions by 4 users not shown)
Line 1:
Line 1:
 
+

[[File:CronvangrCave.jpg|thumb|350px|Cronvangr Cave]]

−

{{stubs}}

 
−

[[File:CronvangrCave.jpg|thumb|300px|{{PAGENAME}}]]

+

[[File:CronvangrCave.jpg|thumb||]]

 
⚫
−

[[File:CronvangrCave_interior.jpg|thumb|300px|Vampire lair behind the secret door]]

 
⚫
 
 
 
−

'''{{PAGENAME}}''' is a cave located due east and across the river from [[Mixwater Mill]]. Inside are a number of [[Frostbite Spider]]s and a hidden [[vampire]] lair. It is also one of the possible locations of [[Queen Freydis's Sword]]. There is also an [[Iron Ore Vein]] inside.

+

'''''' is a cave located due east and across the river from [[Mixwater Mill]]. Inside are a number of [[Frostbite Spider]]s and a hidden [[vampire]] lair. It is also one of the possible locations of [[Queen Freydis's Sword]]. There is also an [[Iron Ore Vein]] inside.

 
 
−

In the hallway leading to the vampire lair, behind the secret door, there is a pressure sensitive fire trap. Inside the vampire lair, there is a cabin, an [[alchemy lab]] and an [[arcane enchanter]].

+

In the the the secret door, there is a pressure sensitive fire trap. Inside the vampire lair, there is a cabin, an [[alchemy lab]] an [[arcane enchanter]].

 
 
 

== Places ==

 

== Places ==

 

=== Cronvangr Bloodlair ===

 

=== Cronvangr Bloodlair ===

 

This area contains several frostbite spiders, including one [[Giant Frostbite Spider]]. There is also a [[Moonstone Ore Vein]] in this area.

 

This area contains several frostbite spiders, including one [[Giant Frostbite Spider]]. There is also a [[Moonstone Ore Vein]] in this area.

 
+
 
+

== Items of Note ==

 
+

* To the west of the cave entrance: [[Corundum Ore Vein]]; to the north-north-east: [[Silver Ore Vein]].

 
+

* In secret lair: a copy of [[The Locked Room]], [[Black Soul Gem]], [[bed]] ×3, [[Sapphire]] on barrel, chests ~140, ~470 {{gold}} value ([[L]]42).

 
+

* At bottom of pool of water: {{Ch|220|42}}

 
+

Broodlair:

 
+

* Behind a web: {{Ch|320|42}}

 
+

* {{Ch|700|42}}

 
 
 

[[Category:Caves]]

 

[[Category:Caves]]

 
+

[[de:Cronvangrhöhle]]
---
Latest revision as of 19:56, 22 October 2017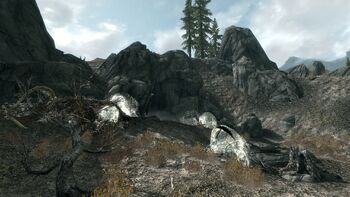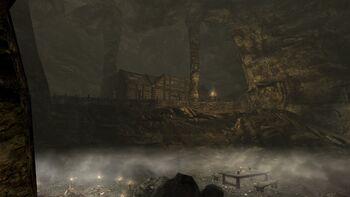 Cronvangr Cave is a cave located due east and across the river from Mixwater Mill. Inside are a number of Frostbite Spiders and a hidden vampire lair. It is also one of the possible locations of Queen Freydis's Sword. There is also an Iron Ore Vein inside.
In the first large chamber, there is a button on the wall which activates a secret door. Behind the secret door, in the hallway leading to the vampire lair, there is a pressure sensitive fire trap. Inside the vampire lair, there is a cabin, an alchemy lab, an arcane enchanter, and also several vampires.
Places
[
]
Cronvangr Bloodlair
[
]
This area contains several frostbite spiders, including one Giant Frostbite Spider. There is also a Moonstone Ore Vein in this area.
Items of Note
[
]
Broodlair: