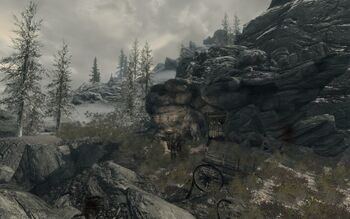 Damphall Mine is a large iron mine, partially flooded, south-east of the Water Stone and north of Bloodskal Barrow. It is a significant Reaver (×17) dwelling featuring an alchemy lab, a tanning rack, an anvil, a wood chopping block and five bed rolls.
The final Reaver Lord carries a Treasure Room Key, that unlocks a cell with a chest, but another Reaver in that cell might already have unlocked that gate for the Dragonborn.
Quests
[
]
Items of Note
[
]
Potions ×4, poison ×3, books ×3, Dibella Statue, Iron Greatsword of Burning, Steel Shield of Waning Fire, Garnet ×3, Diamond and Emerald.
Iron Ore ×5, Orichalcum Ore, Gold Ingot ×4 and Gold Ore ×2.
Chests ~480 (in first pool), ~1170 (Dibella pool, dive),~850, ~680 (near chain stone door exit), ~4730, ~3050 (climb multi waterfall rock); knapsack ~140; strong box ~360 (also Dibella pool) value (L71) .