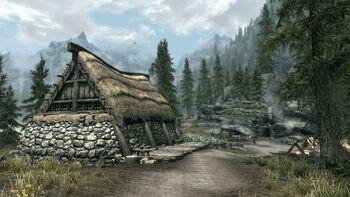 Darkwater Crossing is small mining settlement located due south of Eldergleam Sanctuary, on the Darkwater River. The settlement consists of Verner and Annekke's House and a small camp. The inhabitants work the Goldenrock Mine.
Wheat (×7) and potatoes (×16) are being grown here.
Amenities include: a smelter, a wood chopping block, a grindstone, a tanning rack, a chicken's nest ×2, a bed roll ×3, and a hay pile.
NPCs
[
]
Quests
[
]
Items of Note
[
]