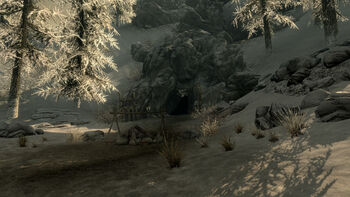 Duskglow Crevice is a cave located almost due north of the Weynon Stones and roughly halfway between Fort Dunstad and Silverdrift Lair. Inside are Falmer (×7) and bandits (×2) (dead ×4) fighting each other, skeever (×2) , chaurus (×3), a Moth in a Jar, a copy of Purloined Shadows and a cooking pot.
Items of Note
[
]
Mushrooms ×15, potions ×2, book, Chaurus Eggs ×64, and copies of The Wolf Queen, v1 and The Wolf Queen, v2.
Greater Soul Gem, Ruby, Dwarven Greatsword, Iron Helmet of Minor Restoration (good helmet mentioned by bandit) and Corundum Ingot.
Falmer chests ~1640, ~340, ~1610 value (L58).