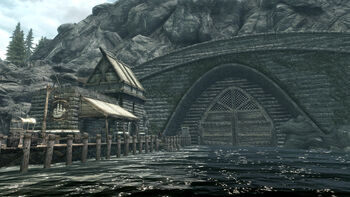 The East Empire Company Warehouse is located by the docks, just south of the city of Solitude. In the far back corner of the warehouse is the office. There is a Business Ledger at the opposite side of the entrance.
NPCs
[
]
Places
[
]
Red Wave, large ship anchored at docks.
The Warehouse
[
]
A large cave with a couple of ships, several guards and many wares that are all considered stealing.
Brinewater Grotto
[
]
During Scoundrel's Folly a passage behind a shelf leads to the Brinewater Grotto.
Quests
[
]
Items of Note
[
]
Dive into the water off the "shop": Chest ~460 value (L53).
Upper "shop" floor: a copy of Beggar Prince.
Inside the Warehouse:
See also
[
]