Falkreath Stormcloak Camp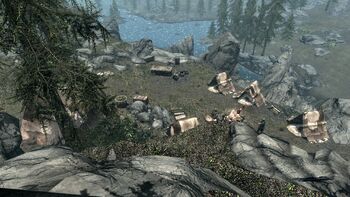 The Falkreath Stormcloak Camp is one of eleven Stormcloak Camps set up to fight the Civil War. This one is located just down the hill to the south-east from Orphan Rock.
Thorygg Sun-Killer, camp commander, will inform about the ongoing Stormcloak efforts. A Quartermaster sells weapons, apparel, and misc items (also buying all those).
In the camp, the Dragonborn can find the following amenities: