m

 

(3 intermediate revisions by one other user not shown)
Line 3:
Line 3:
 

[[File:Tower.svg|link=:Category:Forts]]

 

[[File:Tower.svg|link=:Category:Forts]]

 
 
−

'''Fort Dunstad''' is a fort located south of [[Dawnstar]]. Inside the compound is a [[blacksmith forge]], a [[grindstone]], a [[workbench]] and a tavern called [[The Stumbling Sabrecat]]. The area is overrun by [[bandit]]s.

+

'''Fort Dunstad''' is a fort located south of [[Dawnstar]]. Inside the compound is a [[blacksmith forge]], a [[grindstone]], a [[workbench]] and a tavern called [[The Stumbling Sabrecat]]. The area is overrun by [[bandit]]s.

 
 
 

Inside the fort is a [[wood chopping block]] with an [[Woodcutter's Axe|axe]].

 

Inside the fort is a [[wood chopping block]] with an [[Woodcutter's Axe|axe]].

 
 
 

== Places ==

 

== Places ==

 
+

=== [[The Stumbling Sabrecat]] ===

 
+

The fort has its own tavern built in. Gruesomely the previous owner ''Baral Sendu'' is found murdered in his bed.

 
+
 

=== Fort Dunstad Commander's Quarters ===

 

=== Fort Dunstad Commander's Quarters ===

 

This are has an [[alchemy lab]] and a number of books.

 

This are has an [[alchemy lab]] and a number of books.

Line 15:
Line 18:
 
 
 

== Items of Note ==

 

== Items of Note ==

 
+

Fort:

−
 
 
+

* [[Bed]], [[hay pile]] and [[bed roll]].

−
 
 
+

* Books ×2, a potion and copies of [[The Song of Pelinal, v2]] and [[Immortal Blood]].

 
+

* [[Skeever]] ×7, [[Charred Skeever Hide]] ×2 and {{Ch|1500|58}}

 
+

Commander's Quarters:

 
+

* [[Bed]], [[Skooma]] ×2, books ×12, potions ×10, [[Skeever Tail]]s ×8 and an [[Ebony Helmet]].

 
+

Prison:

 
+

* [[Bed]], [[bed roll]], [[grindstone]].

 
+

* Potions ×6, poisons ×2, [[Skeever]]s ×3 and a copy of [[2920, Midyear, v6]].

 
+

* On roof: {{Ch|1000|58}}

 
 
 

[[Category:Forts]]

 

[[Category:Forts]]

 
+
 
+

[[de:Festung Dunstad]]
---
Latest revision as of 12:56, 28 February 2016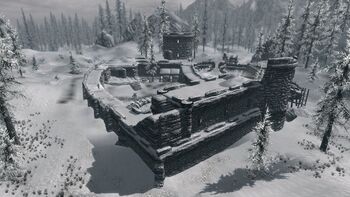 Fort Dunstad is a fort located south of Dawnstar. Inside the compound is a blacksmith forge, a grindstone, a workbench, a wood chopping block and a tavern called The Stumbling Sabrecat. The area is overrun by bandits (×4).
Inside the fort is a wood chopping block with an axe.
Places
[
]
The fort has its own tavern built in. Gruesomely the previous owner Baral Sendu is found murdered in his bed.
Fort Dunstad Commander's Quarters
[
]
This are has an alchemy lab and a number of books.
Fort Dunstad Prison
[
]
In this are is another alchemy lab and a copy of the skill book 2920, Midyear, v6.
Items of Note
[
]
Fort:
Commander's Quarters:
Prison: