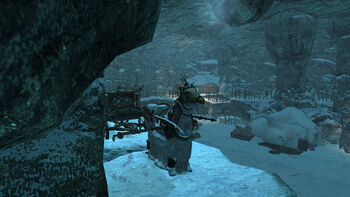 Frossel is an ice cave on the west shore of the north-eastern-most peninsula on Solstheim. It is just east of Haknir's Shoal, inhabited by Rieklings and bristlebacks.
Quests
[
]
Items of Note
[
]
Inside the cave:
Iron Ore ×4, Iron Ingot ×5, Refined Moonstone, Moonstone Ore, Silver Ingot ×6, Quicksilver Ore, Gold Ore Vein ×4, Steel Ingot, Corundum Ingot, Corundum Ore and Gold Ingot.
East Empire Company Strongbox with East Empire Pendant (east cave) and strong boxes ~360, ~350;

Riekling Huts

~1750, ~1100, ~2180; chests ~1400, ~1770; knapsack ~1330 value (L71).
Potions ×3, poison, Ruby, Garnet ×2, Gold Necklace ×2 and Imperial War Horn (south-east cave).
In large cave: