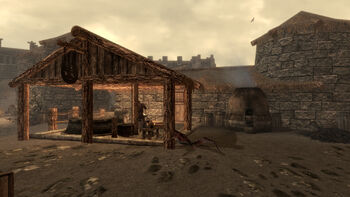 Glover Mallory's House is one of the buildings in Raven Rock. It is the home of the local blacksmith, Glover Mallory. The front door is initially locked (adept), but later Glover gives the key to the Dragonborn as a reward for finding the Bonemold Formula.
The initially locked cellar room, becomes available after Paid in Full.
Includes
[
]
Quests
[
]
Items of Note
[
]
Copies of The Poison Song, Book II, History of Raven Rock, Vol. I, History of Raven Rock, Vol. II, Felsaad Tern Feathers, The Red Year, Vol. I, The Axe Man, Ahzidal's Descent, The House of Troubles, Bone, Part I and Bone, Part II.
Chest ~2400 value (L70).
Thieves' Guild room in cellar: