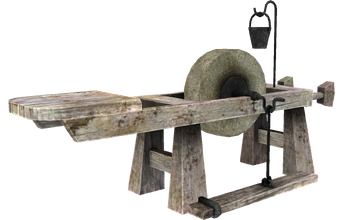 The Grindstone is an interactive object in Skyrim. Use grindstones to improve the damage rating of weapons. All improvements require components, like metal ingots or leather strips. The components required to improve an item appear below the item on the right side of the screen. If you have that component, it is displayed in white; if not, it is displayed in grey.
The amount of improvement depends on your Smithing skill and perks.
Locations
[
]
Hearthfire DLC
[
]
Grindstones can also be built using the Carpenter's Workbench in the Hearthfire DLC. They can be added to the grounds of a home.