Haknir's Shoal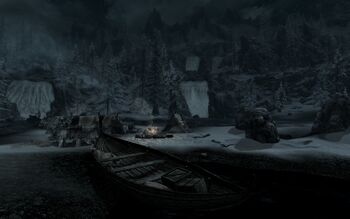 Haknir's Shoal is a small camp at the north-eastern coast of Solstheim, north-west of Skaal Village and inhabited by several pirates (×3).
The pirate captain drops a Elven Battleaxe and carries Deathbrand Treasure Map and a copy Deathbrand. Reading the treasure map actually shows one of the treasure chest right here on the shoal (and not on the island to the north as marked on the map).
The treasure chest contains the Deathbrand Helm.
Haknir's Shoal: