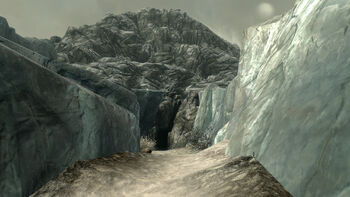 Hob's Fall Cave is an ice cave located near the north coast of Skyrim between Winterhold and Dawnstar, just below the Frostflow Lighthouse. It is inhabited by hostile necromancers and skeletons.
In the sleeping quarters section, at the bottom of the pit under the wooden bridge there is an Unusual Gem. At the far end of the cave, a large chest contains Pantea's Flute.
On an altar a women named Larina lies dead, and a Redguard is dead in a cell.
Quests
[
]
Items of Note
[
]
Copies of The Book of Daedra, The Bear of Markarth, Beggar Prince, Boethiah's Proving, Enchanter's Primer, The Exodus and books ×13.
Potions ×8, arcane enchanter ×2, bed ×3, Black Soul Gem.
Chests ~360, ~340, ~360 (in pit above shelf), ~1400 value (L58).