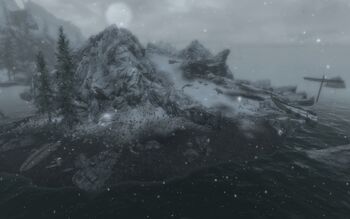 Horker Island is an island off the north-eastern coast of Solstheim, to the east of Skaal Village.
As the name suggests, the island is inhabited by horkers (×4) a named one, Lord Tusk, among them, and also features the entrance to the Gyldenhul Barrow on the north-west side of the island.
The dead bodies of Reavers (×4), and Saden next to Horksbane do not bode well for this place.
Items of Note
[
]
Notes
[
]
There is a small island to the east, but it cannot be reached.