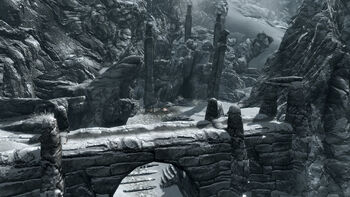 Ironbind Barrow is a Nordic ruin located between Winterhold and Whiterun, near the Great Lift at Alftand.
The barrow is infested with frostbite spiders and even a giant one, also draugr and skeever. Deep in the barrow Warlord Gathrik awaits the unwary adventurer, and a word wall features another word for the shout Become Ethereal.
NPCs
[
]
Places
[
]
Ironbind Lookout
[
]
The barrow can be exited at the very top, the lookout affords spectacular vistas, there is also a Dwemer altar of sorts up on the summit.
Quests
[
]
Items of Note
[
]
Lookout:
Issues
[
]
A follower will not be able to re-enter the barrow once in the outlook. Apparently you need to quick travel out of this location.