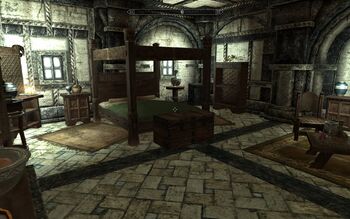 Proudspire Manor can be purchased from Jarl of Solitude's steward, Falk Firebeard, for 25,000

once they have personally helped the Jarl with Elisif's Tribute. You may also purchase upgrades from him to furnish the house. The home also comes with the services of Jordis the Sword-Maiden as housecarl.
Proudspire Manor is the most ornate of all the homes the player can purchase in the game, even more so than the impressive, if single-level apartment in Markarth, Vlindrel Hall. It is a three-level home, with an interior balcony, several entrances (including directly to the street), a lavish bedroom on the top level, a luxurious kitchen, dining and sitting area on the main level and an excellent basement with the enchanting and alchemical stations sharing the floor with impressive storage and of course the housecarl's meager quarters in a separate room.
Items of Note
[
]
Costs
[
]
Price to purchase home: 25,000
Total cost of all upgrades: 11,000
Total cost of the house with all upgrades: 36,000
Bedroom

[

]

Price to purchase: 2000

Includes:

1× Bed
1× Bookcase
1× Chair
1× Chest
1× End Table
1× Safe
2× Wardrobes
1× Weapon Rack with 2 slots

Living Room

[

]

Price to purchase: 2000

Includes:

1× Bench
2× Chairs
1× Cupboard
1× Shelf (Storage)

Upstairs:

1× Bookcase
4× Chairs
1× Cupboard
2× Shelves (Storage)

Kitchen

[

]

Price to purchase: 1500

Includes:

1× Bookcase
1× Cooking Pot with fire
4× Chairs
1× Cupboard

Alchemy Station

[

]

Price to purchase: 2500

Includes:

Enchanting Station

[

]

Price to purchase: 2500

Includes:

Patio

[

]

Price to purchase: 500

Includes:

2× Chairs
1× Potted Plant