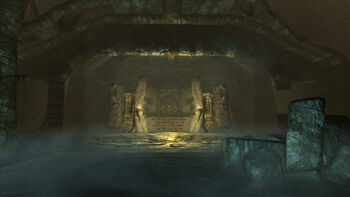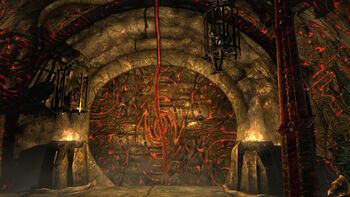 Raven Rock Mine is located within the settlement of Raven Rock in Solstheim. Near the main gate to the mine a smelter and wood chopping block can be used.
Within is also a word wall containing one of the words of power for the Dragon Aspect shout.
NPCs
[
]
Miners that start work after The Final Descent:
Places
[
]
The first part of the mine is infested by a skeever and Frostbite Spiders (×4), past the locked metal gate the Dragonborn is lead a Nord barrow. Here many levelled draugrs (×15) make progress more challenging.
At the end of the path the skeletons of Gratian Caerellius (Bloodskal Blade, Gratian's Journal) and Millius can be discovered.
Later in the barrow a leads to the Dragon priest Zahkriisos who carries a powerful mask. Also in the same chamber note the word wall for the shout Dragon Aspect. On leaving that chamber the Black Book: The Winds of Change book on a pedestal leads to a surprise visit in Apocrypha.
The Dragonborn is transported to a very strange place, leaving behind any follower. Many valuable things like scrolls and soul gems can be found here and also dangerous beasts like Seekers (×2) and a Lurker. The Font of Magicka (×5) will replenish the Dragonborn's magicka, and the Font of Stamina (×2) will do the same for stamina. Various rooms are can be unlocked by activating switches called Scrye (×5).
Reaching another Black Book: The Winds of Change book lets the Dragonborn choose one of three new abilities: Companion's Insight, Lover's Insight or Scholar's Insight, to then return to the mine.
This Nordic ruin is accessible from the mine. Here the local bandits called Reaver (×8) await unwary adventurers.
Quests
[
]
Items of Note
[
]