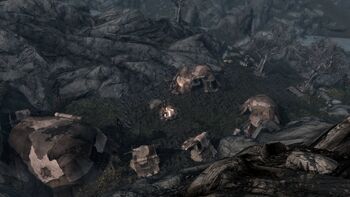 The Reach Stormcloak Camp is one of eleven Stormcloak Camps set up to fight the Civil War. This one is located in just down the hill from Liar's Retreat and across the river to the north-west of Karthwasten. In the camp, the Dragonborn can find the following amenities:
There is also an Iron Ore Vein just outside the camp, toward the river.
NPCs
[
]
Quartermaster, sells weapons, armour and miscellaneous items.

Kottir Red-Shoal

, camp commander
Items of Note
[
]
To the west of the camp Dwemer ruins contain: Dwemer chest ~2220 value (L50).
Also to the west: Iron Ore Vein.
Potions ×2, chests ~1480, ~200 value (L50).