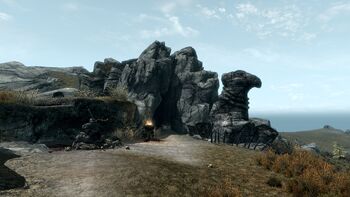 Rebel's Cairn is a cave located in western Skyrim between the Sundered Towers and Bleakwind Bluff. Inside is an alchemy lab, the body of a dead adventurer with a copy of The Legend of Red Eagle, and a pedestal with a weapon slot.
There is also a copy of the skill book Reality & Other Falsehoods.
Placing Red Eagle's Fury in the slot on the pedestal opens a secret door leading to a cave system. When the sword is retrieved on the way out, it has been transformed into Red Eagle's Bane.
Quests
[
]
Items of Note
[
]
Main Chamber
[
]
Red Eagle's "Tomb"
[
]