(5 intermediate revisions by 2 users not shown)
Line 1:
Line 1:
−

[[File:RiftwealdManor.jpg|thumb|300px|{{PAGENAME}}]]

+

[[File:RiftwealdManor.jpg|thumb||{{PAGENAME}}]]

−

[[File:Smguildmember01.png|x40px|Guild shadowmark]]

+

[[File:Smguildmember01.png|x40px|Guild shadowmark]]

 
 
−

'''Riftweald Manor''' is [[Mercer Frey]]'s residence in [[Riften]]. The front and back entrances bear the "Guild shadowmark". On the ground floor is a "suspicious cupboard" which is in fact a secret passage leading to a series of underground tunnels and Mercer's secret room.

+

'''Riftweald Manor''' is [[Mercer Frey]]'s residence in [[Riften]]. The front and back entrances bear the "Guild shadowmark".

 
 
 
+

'''Note:''' Access to the manor only becomes available with [[The Pursuit]].

⚫
 
 
+
 
+

On the ground floor there is a "suspicious cupboard" which is in fact a secret passage leading to a series of underground tunnels and Mercer's secret room. A note, [[To The Owner]], reveals structural work on the house, and a [[Shopping List]] adds some flavour.

 
+
 
⚫
 
 
 

== Quests ==

 

== Quests ==

 

* [[The Litany of Larceny]]

 

* [[The Litany of Larceny]]

 

* [[The Pursuit]]

 

* [[The Pursuit]]

 
+
 
+

== Items of Note ==

 
+

* Potions ×4, books ×9 and copies of [[The Amulet of Kings]], [[Nords Arise!]], [[The Lusty Argonian Maid, v1]] and the [[The Red Kitchen Reader]].

 
+

* [[Dibella Statue]] and chest ~150; Dwemer chest ~1740 {{gold}} value ([[L]]67).

 
+

* In a bowl on the table: [[Amethyst]], [[Flawless Amethyst]], [[Gold Necklace]], [[Diamond]], [[Ruby]], [[Garnet]], [[Flawless Garnet]], [[Emerald]], [[Flawless Emerald]], and a [[Gold Ring]]; total value ~3100 {{gold}}.

 
 
 

[[Category:Buildings]]

 

[[Category:Buildings]]

 
+
 
+

[[de:Gut Riftwald]]
---
Latest revision as of 20:17, 14 January 2015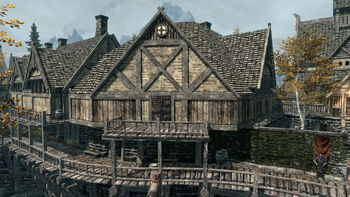 Riftweald Manor is Mercer Frey's residence in Riften. The front and back entrances bear the "Guild shadowmark".
Note: Access to the manor only becomes available with The Pursuit.
On the ground floor there is a "suspicious cupboard" which is in fact a secret passage leading to a series of underground tunnels and Mercer's secret room. A note, To The Owner, reveals structural work on the house, and a Shopping List adds some flavour.
In the room there are Mercer's Plans, the Bust of the Gray Fox, a weapon case which holds Chillrend, and a mysterious note Many Thanks. Beyond this room there is also an exit to the Ratway Vaults which bears the "Danger shadowmark".
Quests
[
]
Items of Note
[
]
Potions ×4, books ×9 and copies of The Amulet of Kings, Nords Arise!, The Lusty Argonian Maid, v1 and the The Red Kitchen Reader.
Dibella Statue and chest ~150; Dwemer chest ~1740 value (L67).
In a bowl on the table: Amethyst, Flawless Amethyst, Gold Necklace, Diamond, Ruby, Garnet, Flawless Garnet, Emerald, Flawless Emerald, and a Gold Ring; total value ~3100 .