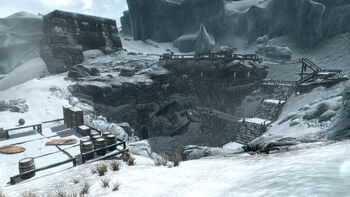 Saarthal is the ancient capital of the Nords that was destroyed in an elven attack during the Night of Tears. Its ruins lie just south of Winterhold.
Initially the main gate requires a key, so it cannot be explored.
During an exploration of the ruins, the Eye of Magnus is discovered within its deepest depths.
Places
[
]
Outside the excavation site, there is a Silver Ore Vein. When Under Saarthal is launched, this is the first time the Dragonborn encounters Brelyna Maryon, waiting outside the excavation site together with Tolfdir.
Saarthal Excavation
[
]
Here the Dragonborn finds Arniel Gane as well as three Enchanted Rings and the Saarthal Amulet. There is an Iron Ore Vein and a Gold Ore Vein in the caves. It is here that Nerien of the legendary Psijic Order appears to the Dragonborn.
Saarthal
[
]
In the chamber with the Eye of Magnus the Dragonborn will have to face off against Jyrik Gauldurson, who has a Gauldur Amulet Fragment and a Writ of Sealing on his body. Beyond the site where the Eye is discovered is a door leading to a word wall with one of the words for the Ice Form shout.
Quests
[
]
Items of Note
[
]
Saarthal Excavation:
Saarthal:
Ruby, Ebony Sword (in broken large urn), Steel Shield, Black Soul Gem (in a coffin), Staff of Jyrik Gauldurson, poisons ×2
Urns ~180, ~150; burial urns ~100, ~210, ~160, ~190; chests ~180, ~350, ~1610 value (L65).
An alchemy lab and a copy of the book Dragon Language: Myth no More or Dwemer History and Culture.