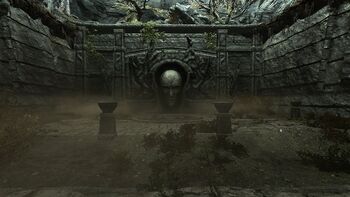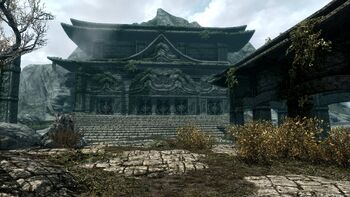 Sky Haven Temple is the location of Alduin's Wall and one of the last refuges for the Blades. The temple is accessed through a cave in the Karthspire. It is located east of Markarth, just up the hill from Karthspire Camp.
During Alduin's Wall Delphine and Esbern take the Dragonborn there. Inside is a full set of Blades Armor and Dragonbane.
The view outside of the temple is spectacular.
Note: The temple can only be unlocked during the Alduin's Wall quest.
Quests
[
]
Items of Note
[
]
Chests ~240, ~170, ~2023 value (L68).
A room in the west features: Blades Sword ×6, and a copy of Mace Etiquette, the sleeping quarters to the north-east provide six beds.