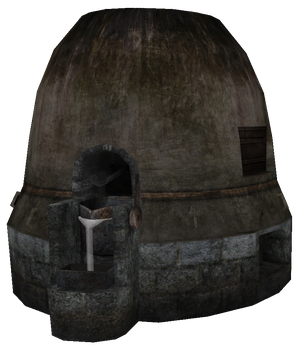 Smelters are interactive objects used to transform Ore or scrap metal into ingots or refined form.
Raw ore can be found throughout the world, primarily in mines. At a smelter, you can smelt this ore into metal ingots, which are needed to forge and improve weapons and armor.
The ore or other components required to smelt an ingot appear below it on the right side of the screen. If you have a component, it is displayed in white; if not, it is displayed in grey.
Locations on smelters
[
]
Hearthfire DLC
[
]
Smelters can also be built using the Carpenter's Workbench in the Hearthfire DLC. They can be added to the grounds of a home.