Snapleg Cave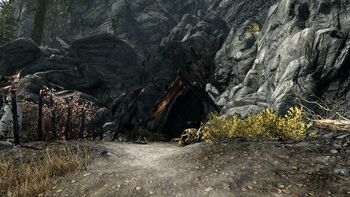 Snapleg Cave is a cave located in a mountainside due west of Clearspring Tarn and south-east of Darkwater Crossing. It is inhabited by skeevers, frostbite spiders even a giant one, a troll and hags. There is also the skill book Breathing Water, which is located inside one of the hag tents farther in the cave.
In one of the chambers farther inside, there is a spriggan being held captive by a hagraven and another hag. The spriggan can be freed, and will not attack, but try to leave the cave.
Amenities: Cooking pot, arcane enchanter, alchemy lab.