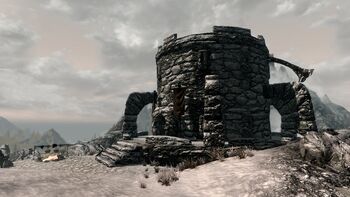 Stendarr's Beacon is a former Imperial tower which has been taken over as an outpost by the Vigilants of Stendarr. It is located directly south of Black-Briar Lodge, and south-east of Broken Helm Hollow.
Outside the tower there is a table with a few food items and two satchels on it and a Silver Ore Vein beside it.
Inside the tower, on the lower level is a copy of The Exodus and also a small Shrine of Stendarr.