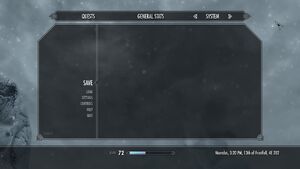 The System Tab allows the player to control the basic aspects of the game. These include loading, saving and/or quitting games, as well as customizing the interface. The top-level options on the System Tab are:
Save
[
]
This option allows the player to save their current game in order to reload it at a later time. The save option is also offered when a player chooses to quit.
Load
[
]
The Load screen allows the play to choose a previously saved game session or the most recent Autosave or Quicksave sessions.
Settings
[
]
Controls
[
]
This option displays the current assignment of keys used in the game interface as well as allowing the user to change those assignments. For a list of the default settings:
Help
[
]
This option lists a number of topics important to gameplay with some basic information on each. The topics include:
Quit
[
]
This option allows the player to quit the game, leaving the option to exit to the desktop or stay in the game interface. You are also given the option to save.