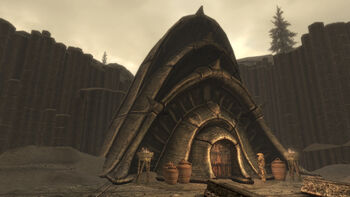 The Temple is one of the buildings in Raven Rock. It is home to two priests and contains three shrines: a Sacellum of Boethiah, a Shrine of Azura, and a Shrine of Mephala. Each of these shrines can provide a blessing.
NPCs
[
]
Places
[
]
Temple Ancestral Tomb
[
]
This tomb can be accessed either from the Temple itself, or via underground passage from the Morvayn Ancestral Tomb and the Ulen Ancestral Tomb, but only if you have the Raven Rock Temple Key.
Quests
[
]
Items of Note
[
]