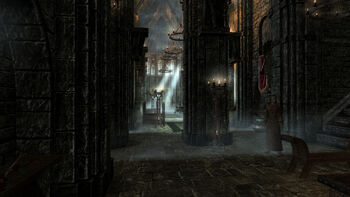 The Temple of the Divines is located in Castle Dour in Solitude. It has shrines to the Eight Divines, but no shrine of Talos, in accordance with the White-Gold Concordat.
In the cellar a grated gate requires a key to open.
NPCs
[
]
Rorlund

, high priest

Silana Petreia

Freir
Quests
[
]
Items of Note
[
]
Notes
[
]
↑ A ninth shrine, to Talos, appears in the empty alcove if the Dragonborn sides with the Stormcloaks and retakes Solitude.