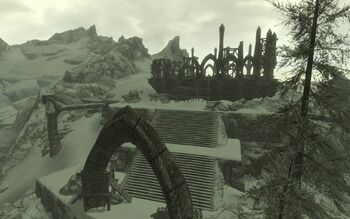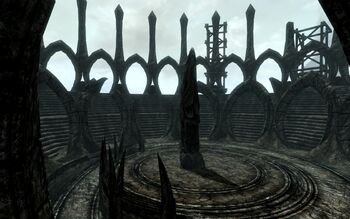 The Temple of Miraak is located in the centre of Solstheim, north-east of Raven Rock and north-north-east of Tel Mithryn.
Initially, the Tree Stone located there turns various Solstheim inhabitants into involuntary workers.
NPCs
[
]
Initially found workers at the temple:
Places
[
]
The Temple of Miraak
[
]
The temple is defended by cultists (×6) and overrun by draugr (×16).
Temple of Miraak Sanctum
[
]
Here skeletons (×10), draugr (×13) and cultists (×2) frolic. Most notably a word wall for the Dragon Aspect shout can be found. The Gatekeeper here carries the Temple of Miraak Key.
Further on the Black Book: Waking Dreams transports the Dragonborn to Apocrypha to confront Miraak himself for the first time. Hopelessly underprepared for the encounter the Dragonborn is defeated and expelled from the book.
Note: It is possible to re-enter the book. This time Miraak is not there, and this part of Apocrypha can be explored. Tip: The exploration, pretty much to the end of the book, will accelerate later progress in follow-up quests.
Quests
[
]
Items of Note
[
]
Temple:
Potions ×4, poisons ×11, Emerald, Garnet, Flawless Amethyst, Black Soul Gem and Fortify Carry Weight Potion Recipe (on cultist).
Chest ~990 (Stalhrim Shield), ~7572 (large chamber, north, climb up onto platform), ~1360, ~1370, ~1720; burial urns ~760, ~780; urns ~1630, ~1010, ~2010, ~1130, ~2030 value (L72).
Sanctum: