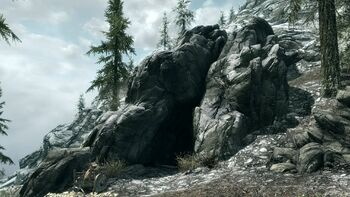 Tolvald's Cave is a cave located north-east of Shor's Stone and south-east of Ansilvund. Just inside the cave entrance are the remains of a hunters' camp with three bed rolls, an Iron Ore Vein and a Silver Ore Vein. Near the former cooking area is a small stool with the Hunter's Journal on it. One may stumble into a few Frost Trolls.
Spread out over all the caves, a huge amount of Glowing Mushrooms (×213) are available for harvest, and many other mushrooms too. Also egg sacs, yielding Chaurus Eggs (×225) are abundant.
Farther in, there are indications that the cave connects to a Dwemer ruin inhabited by Falmer. In a seemingly dead end chamber, that will open up in two directions piece of Gold Ore can be found. There is also an alchemy lab and two tanning racks.
Places
Quests
Items of Note
Cave:
Dwemer chest ~1630; Falmer chests ~1880, ~420 value (L45).
Falmer Bow, one of the Flamer will carry a Shaman's Key.
Gap:
Crossing: