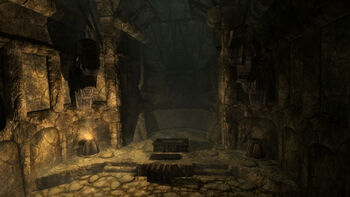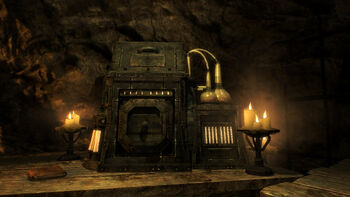 White Ridge Barrow is a Nordic ruin located in the northern part of Solstheim. The primary inhabitants of the barrow include bandits, draugr, spiders and Merilar Rendas with Merilar's Journal.
Places
[
]
White Ridge Sanctum
[
]
Servos Randas is found dead in his cell along with Servos' Journal.
This area is where the word wall for Cyclone is located, guarded by a dragon priest known as Dukaan wearing rare mask. After defeating him, the Dragonborn finds the Black Book "The Sallow Regent" facing his tomb.
Imbuing Chamber
[
]
This chamber includes a machine for creating Spider Scrolls and the Spider Experiment Notes which explain the process.
Items of Note
[
]
Barrow:
Sanctuary: