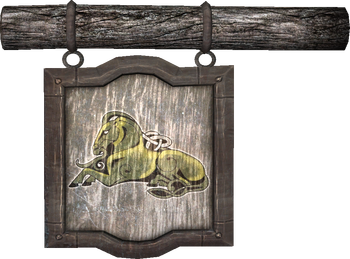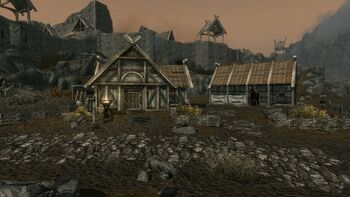 The Whiterun Stables is a stable located just outside the gates of Whiterun. The owner is Skulvar Sable-Hilt, while Jervar, his son, and his employee, Lillith Maiden-Loom. A black horse can be purchased here for 1000

. Bjorlam's carriage services can be purchased here.
Inside the stables living quarters is a cooking spit and a Business Ledger.
Quests
[
]
Whiterun Hold
Settlements

The Plains District

The Wind District

The Cloud District

Farms
Camps

Army camps

Bandit camps

Giant camps

Forts, Keeps, and Towers
Nordic Ruins
Caves
Standing Stones
Unmarked Locations

Rorikstead Resurrection

 ·

Puzzling Pillar Ruins

 ·

Fetid Pond

 · White River ·

Swallowed Skeleton

 ·

Great Henge Resurrection

 ·

Necromancer's Bluff

 ·

The Skeleton's Strongbox

 ·

Smuggler's Den

 ·

Whiterun Attack Camp

 ·

Ruined Troll and Wispmother's Well

 ·

Dead Whiterun Guard

Other