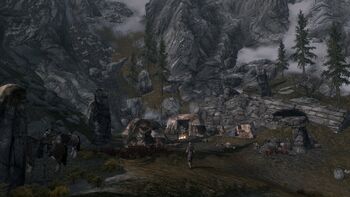 The Whiterun Stormcloak Camp is one of eleven Stormcloak Camps set up to fight the Civil War. This one is located south of the Ritual Stone and east of White River Watch in an abandoned ruin. In the camp, the Dragonborn can find the following amenities:
This is the only Stormcloak camp without a quartermaster.
Standing at the strategic map, Hjornskar Head-Smasher oversees the camp.
Items of Note
[
]