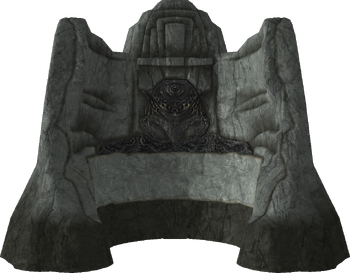 Word Walls or Rune Walls are semi-circular walls that are located in dungeons or at dragon nests around Skyrim. They are quite noticeable when the Dragonborn is nearby because of visual and audio cues that will start to attract attention. You will hear a low chanting that gets progressively louder as you near the wall. In addition to that, tendrils of light will extend outwards from the word when you reach a certain distance. Furthermore, your field of vision will begin to blur and narrow; becoming progressively darker until all you can see is the word. When you are close enough, the word is automatically added to your library. Every word found on a word wall is a word of power from the Dragon Language that, when shouted by either a Dragonborn or an extremely practised person, translates into a physical power similar to magic, except a lot stronger.
The words of power are always found in the same order, so depending on which wall is found first, the word of power found there could be any of the three words in the shout. They are also usually only found one at a time, with the exception of the words of power for "Throw Voice".
Locations
[
]
The following are where you can find Word Walls. Words of Power are listed in order.