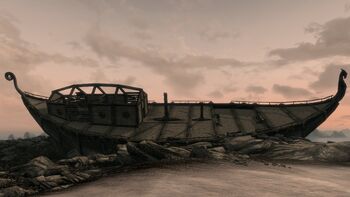 The Wreck of the Brinehammer is a grounded ship along the coast west of Dawnstar which has been overrun by mudcrabs.
Places
[
]
The Brinehammer below Deck
[
]
A Shrine of Kynareth can be found under deck, along with a copy of the skillbook Catalogue of Armor Enchantments.
The Brinehammer Cargo Hold
[
]
And a copy of the skillbook Father of the Niben in the cargo hold.
Items of Note
[
]
Below Deck:
Cargo Hold:
Chest ~300 value (L58).